Louis' story 
From brass band to surgery: a young cardiac patient's musical journey of anxiety reduction
Louis is a sixteen year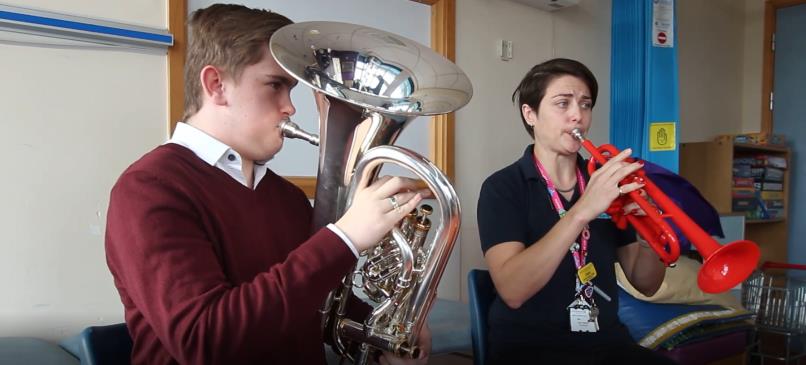 old who was born with congenital heart disease. He was referred for procedural support and music therapy at Bristol Royal Hospital for Children to help prepare him for open heart surgery, having had numerous previous surgeries. This surgery had already been cancelled twice due to his high anxiety. 
Music therapy is an effective way of processing difficult emotions surrounding diagnosis and treatment pathways without having to use words, which can sometimes be challenging.
Louis began playing music at the age of two when his brass band playing parents bought him a trumpet. Since then he has moved onto the euphonium, and playing in brass bands has been an important part of his life. His heart condition meant that he was unable to play the euphonium to his full potential as his breathing capacity was compromised.
Before becoming a music therapist, Claire was a professional French horn player and uses her red plastic trumpet on the wards throughout the hospital.  Claire was able to use her brass playing skills to help calm Louis enough to come to the hospital. For a year prior to the operation Louis and his mum came each month to a joint music therapy and psychology session. These joint sessions allowed the psychologist to support mum with strategies to help Louis at home whilst Claire played duets and talked to him about how music might help his anxiety.
On the day of his operation, Louis and Claire played pre and post his preoperative medication and used Spotify to play some music to calm him.
The film (below) is from when Louis came back to the hospital to play some duets and have a final session with Claire, eight months after successfully undergoing his operation. He brought with him his new euphonium, purchased with the bursary he was granted for being an outstanding musician.
Thanks to the combined efforts of the wonderful medical team, the psychologist and music therapy, Louis now has a bright future ahead of him and has recently started a barbering course.