This is Emma and her daughter Amia's journey. Emma has shared about the challenges they faced and the support they received from the Bristol Royal Hospital for Children. 
Amia has pulmonary atresia (fallots), ventricular septal defect (VSD), atrial septal defect (ASD), and a left sided superior vena cava into an unroofed coronary sinus.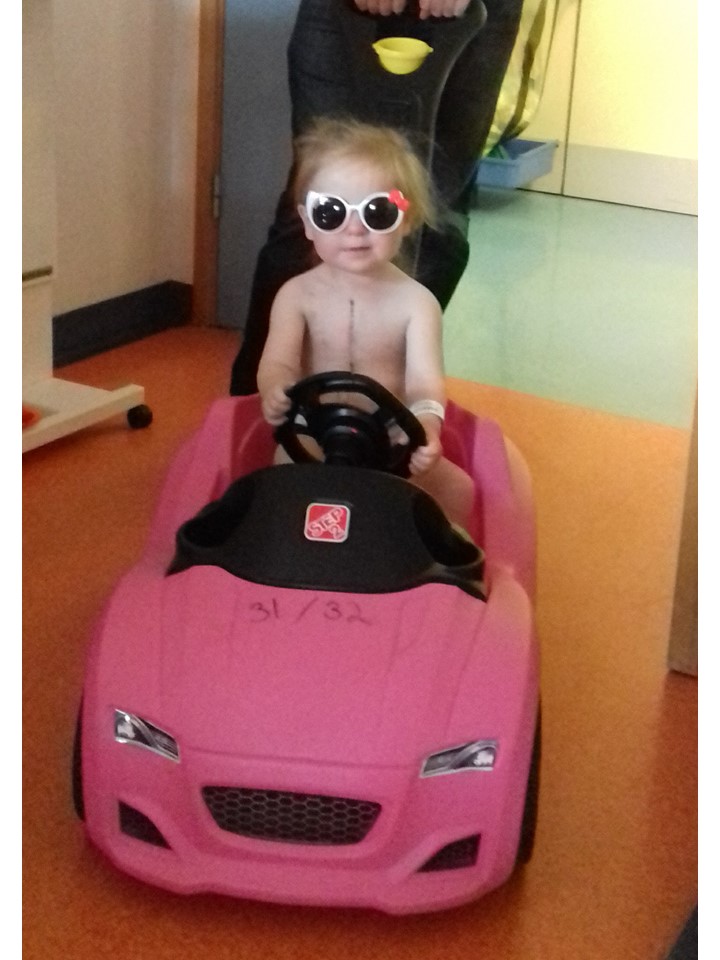 "Our story began at my 20 week scan, when we received the news that no one expects or wants to hear ' there's a problem with your babies heart'. The next 18 weeks passed in a blur of tests, long words, surgical plans and appointments. At 38 weeks, I was induced and my tiny 5lb 15 oz Amia was born. A tense few minutes was followed by my soon to become favourite sound, my baby crying.
6 hours after she was born, Amia was moved to ward 32 in Bristol Royal Hospital for Children. On arrival, we were met by a team of fantastic nurses who not only supported our now prostin dependent daughter but also taught myself and my husband to care for our newborn giving us the chance to feed and change her like any 'normal' family. We knew that Amia's heart was not an easy fix and that 'fix' wasn't the term we would hear.
At one week old Amia went for procedure number 1, a catheter. It was unsuccessful. At  9 days old she went for procedure number 2, a hybrid. Again unsuccessful. Our littler warrior had decided that only the biggest surgery would do. She needed open heart surgery. We had always known that this was an option, but the first 2 procedures were a combination of innovation and brilliance by the teams at Bristol Royal Hospital for Children. Yes they weren't successful but they had learnt more about her heart from doing them.  We had then and still do have every faith in them. 
After 8 weeks of growing, prostin and less then steady sats, Amia was ready for the big day. I won't say it was easy taking the walk from the ward to the anesthetic room and those moments watching my now 8lbs 4 oz baby fall asleep in my arms, but as with every experience we have had at Bristol Royal Hospital for Children, we had a team supporting us and we knew that no matter what they would do all in their power to bring her back. And they did!
Since her first open heart, Amia has required 3 more open heart surgeries, a number of catheters and various scans and checks. She has thrown in a few curve balls and likes to keep us on our toes but what is consistent is the amazing team at Bristol Royal Hospital for Children.
We have always volunteered ourselves to take part in research and Amia is in a number of studies. Her heart journey started with one surgical plan, and thanks to research she now has multiple plans and every chance to carry on being the happy, stubborn, beautiful girl she is now.  We will be forever in debt to the Bristol Royal Hospital for Children and together we know Amia and others like her will thrive and change the face of CHD.
Despite her rather long diagnosis Amia is now a healthy, happy 6 year old who lives and breaths each day thanks to the amazing work of the team at Bristol Royal Hospital for Children."