Patients are at the heart of everything we do as a network, and we are aware that patient stories can be really helpful for staff and patie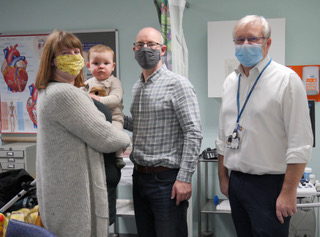 nts/families. 
In this section, you will find a collection of stories by our patients or families, describing their or their loved ones experiences of living with a congenital heart condition, in their own words.
We hope that you find the patient stories shared here helpful and informative, and that they may encourage you in your or your loved one's cardiac journey, to know that you are not alone - we are in this together to support each other!   
We would like to grow this section of our site and would love to know more about your experience of congenital heart disease care in South Wales and the South West. 
Share your story – we'd love to hear your CHD story
Do you or your loved one live with a congenital heart disease condition and would like to share your story?   The congenital heart disease network would love to hear from you. 
We have a collection of stories here on our website and also like to share patients' stories anonymously with medical professionals at our network meetings.  Your stories help us to understand patient experience, and help us to improve and develop our services.  They are valuable for learning and also celebrating success.  Moreover, we hope that these support other patients/families on their cardiac journey.  
We would love to hear more about your experience of CHD care in South Wales and the South West.  You can provide your story in any format you would like, but if it would help, we have provided a story template that you can download. Please email your stories to the email address below together with a completed GDPR consent form - adult consent form. child consent form. If you are happy to, please include photos. 
Email address:  Rachel.Burrows2@uhbw.nhs.uk  Sheena.Vernon@uhbw.nhs.uk   Jessica.Hughes@uhbw.nhs.uk