When your child is diagnosed with a cardiac condition you may not know what to expect (who will you see and what will happen next).
In this section, you will find more information about the different pathways that your child may follow at different times. (A patient pathway is a term we use to describe the different steps on a healthcare journey.)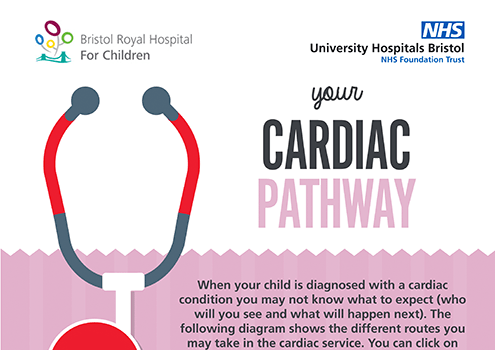 Our specialist hospital teams have designed an interactive pathway document to show you the steps that your child may take on his/her journey. To open the document, click on the 'Download PDF' button to the right. It covers the Catheter, Fetal, Inpatient, Outpatient and Surgical pathways that your child may take within their overall Cardiac Pathway. 
If you have any feedback on this document please email: Vanessa.Garratt@uhbw.nhs.uk
Click HERE to access the interactive document
Print-friendly versions of the sections covered in the interactive document are available below: