Finnley has recently celebrated the anniversary of his first heart operation. A year on, we want to share Finnley's and his family's story.
Ben, father of the family, describes their journey from Finnley's birth and shares a touching and in-depth account of the experience as parents: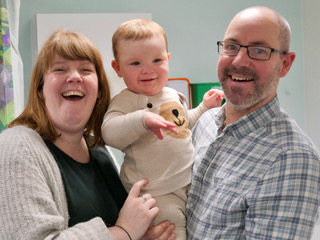 "Finnley was born with an undisclosed heart condition. He had tetralogy of Fallot which meant there were four things faulty with his heart.
His birth was via emergency c-section and straight away he was rushed over to the resuscitation table and there he spent the next 10 or 15 minutes. He had meconium, which we did know about, prior to birth so that made things complicated. I was taking a proper look at my baby for the first time. That image of him lying there, that feeling of helplessness will never leave me.

When his meconium problem was nearly finished being dealt with, it was time to cut the umbilical cord. It was decided in the birth plan I was to be offered the opportunity so someone handed me the instrument and I was told to do it quickly. A plan was then put in to motion to hurry our boy along to NICU (neonatal intensive care unit).

He was born 4kg so was quite a big boy. 9 days over term. On NICU they had to find a mask big enough for his head. He was going to be quickly put on some breathing machine and I was struggling to work out what was going on. Still by this stage, almost an hour after birth, he hadn't had a hug from his Mummy or Daddy.

This time sat in NICU, watching my baby being quite frantically worked on, was extremely emotional. I'd just become a parent for the first time. I didn't know what to feel, what I should feel. The focus was rightly on the boy not me, until someone recommended to me that I should go back and see Mum to be with her, as it was going to be a while in NICU.
Christmas Eve 2019, when Finn was just five days old, he had his first surgery. We spent what seemed like an eternity in the lounge of the Grand Appeal accommodation opposite the hospital. Eventually my mobile rang, the voice on the other end said it had gone very well and we could see him very soon. That was his first operation, the surgeon Francisco Gonzalez was happy with how it went. 
Throughout 2020, his first few months saw a number of trips back and forth to the children's hospital. At the start of March 2020, we spent a number of weeks in hospital, both of us parents enjoying time at the bedside together. When you're in hospital for an extended period of time, you just kind of forget about the outside world with everything going on. But we did hear about the coronavirus that was starting to spread around the world further. After yet more surgery and procedures we were able to bring Finn home. This was just before lockdown one. Finn was almost four months old. 
Once home, nurses in the community called in once a week to see us, just to measure his sats, oxygen levels, weight, the usuals.
During 2020, our time was spent up on Dolphin Ward [the cardiac ward] where Finn was looked after so caringly and professionally by all of the staff. From the ward managers, to those in charge of meals and cleaning to, of course, the team of nurses who work day and night to look after Finn and all the patients there. He was so well looked after. Where possible we used to treat staff to teas and coffees from Penfold's over the road, because they were all so busy all the time.
We were given a target weight of 10kg to ensure that Finnley was big enough for the main operation. The one that was going to fix his heart 'for good'. We were looking at later in the year. He reached that weight, through milk, weaning and generally growing up into a gorgeous curious confident little boy. 
October was looming. Mum felt anxious as the time drew nearer. I just wanted it over to be honest. Eventually they had a bed available and despite everything else going on in the world, Dolphin Ward and the children's hospital were able to carry on almost just as normal. We were admitted, managing to get nearby accommodation with huge thanks to Ronald McDonald. There were lots of pre-op procedures and meetings with doctors and surgeons on what the plan was for Finn. A week or so later having been on a part of the ward with a number of other patients, it was our turn to go down to theatre.
Once again it was a long wait for any news. We did anything to kill the time, making sure phones were on loud and batteries were good. Eventually we received some good news and we were able to see him. Finn was just coming round after some pretty major surgery and he had warm hands. Normally 36 hours might be spent on PICU before going back up to Dolphin but Finn's progress was going well so he was back up much quicker. We were so proud of him, our little heart hero. He has a scar and when he's old enough to understand things we'll explain what's gone on.  Cardiac Surgeon, Professor Massimo Caputo, and his team did a sterling job! 
Before his first birthday, Finnley underwent and survived numerous heart operations and is in great shape to become a tearaway toddler. He is now in nursery two days a week, babbling away and he's loving our local park with the swings and slides – all completely oblivious to a pandemic and tetralogy.
All in all, pretty incredible as far as our little family are concerned, and we owe an awful lot to the huge team of professionals at Bristol Royal Hospital for Children."