ACHD Youth Worker
Xander Cook is Youth@Heart's ACHD Youth Worker, he supports young people aged 16-24 who have congenital heart disease. 
Background and Training
I am from Somerset and my interest in youth work started at the age of 13 when I set up an internet/gaming café in my home village. The café was hugely successful and ran for 10 years, stopping only when I left to purse my youth work career at University, and technology changed - everyone has a console nowadays!
I completed a BA (Hons) Youth and Community Development Degree at De Montfort University Leicester between 2010 and 2013. Following this I returned to Somerset and worked as a labourer for 6 months, before getting a job in Bristol working for the Bristol Youth Links contract, supporting young people on a 1:1 basis and running youth club sessions. I then moved into an educational role supporting learners pastorally who were working on an employability qualification with a local college, before returning to 1:1 support, when the college closed.
Interests
During my school days I felt I was on the fringes of groups rather than being in the centre of them – this fuelled my passion to provide spaces for young people who don't completely fit in, a place where they can really be themselves.
I started volunteering for Over the Wall in 2007, a charity that provides residential camps to young people affected by health challenges. This inspired me to move my career into a health-based setting. I continue to volunteer for OTW to this day!
Current role and experience
I have just started my role as Adult Congenital Heart Disease (ACHD) Youth Worker. I work for Youth@Heart, a small charity based in Gloucester, supporting young people (16-24) with ACHD across the South West and South Wales, and I have an honorary contract with University Hospitals Bristol. Although I don't have any clinical experience I have been learning and reading about CHD from websites, the Clinical Nurse Specialist team, a book kindly borrowed from one of the ACHD psychologists called Open Hearts, and young people themselves who are living with ACHD.
My plans for the next few months include writing to young people with CHD to introduce the youth worker; finalising leaflets and posters identifying the support available and the referral criteria, to send out to peripheral clinics; planning activities in collaboration with young people, e.g. bowling that they would like to access; visiting some of the peripheral clinics, meeting and supporting young people on the wards and as outpatients.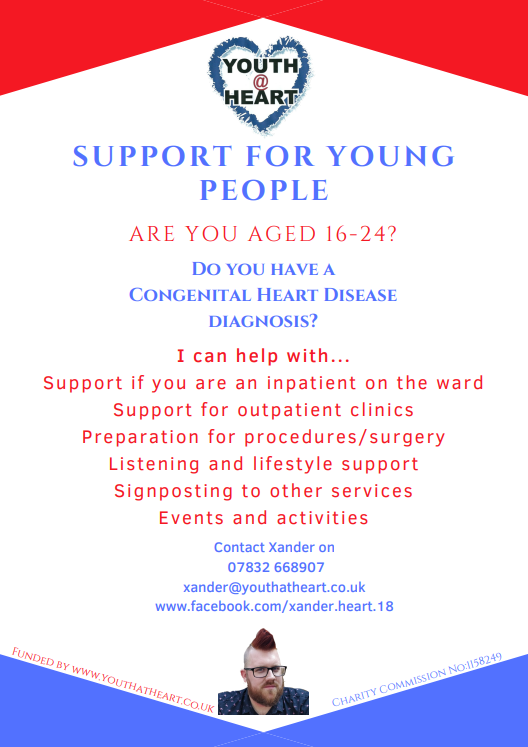 How Xander can help you:
1:1 support in the hospital
Accompanying you to outpatient appointments
Someone to talk to
Linking you to other young people with CHD
Helping you to share your knowledge and experiences with your peers
Facilitating support in the community
Liaising with educationalists and employees
Click here to read Xander's letter outlining outlining what help and support he can offer to you, your family and friends. 
How to contact Xander:
Email: xander@youthatheart.co.uk
Phone: 07832668907 / 01452 690830
See Xander's posts on the Youth@Heart Facebook page:

Like Youth@Heart on: 

Follow Youth@Heart on: 
Visit Youth@Heart's website